Our Commitment to Reduce Plastic waste by 500,000lbs This Year With a New First-to-Industry Technology
Advil is using a first-of-its kind material for OTC medicines in over 80 million bottles to reduce our plastic use by 20%, and plastic waste by 500,000lbs in 2022. It's a step towards relief that's tough on pain, not on the planet.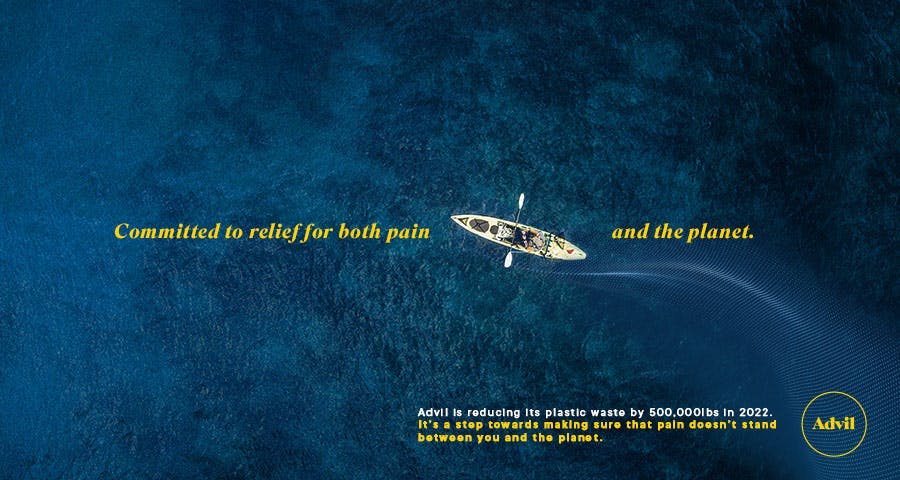 Have you heard the news? We at Advil are announcing our commitment to new ways to reduce plastic use with a first-of-its- kind barrier-enhancing plastic technology for over-the-counter (OTC) medicines. This new goal is part of a sustainability initiative by GSK Consumer Healthcare for all consumer product packaging to be recyclable or reusable, including eliminating all problematic and unnecessary plastics—where quality, safety, and efficacy of our products permits––by 2025.
Advil's ambitious commitment will:
Reduce the plastic in over 80 million Advil bottles1 by 20% by adapting a technology called Compression Blow Forming (CBF), which decreases the amount of resin required to mold and craft the bottles.

Cut down the equivalent of nearly 500,000 pounds of plastic in the environment, or 1000 Metric Tons CO2e.

Diminish the amount of plastic in nearly all bottles available in stores and online2 by 2022.

Maintain the same barrier protection properties.

Be part of GSK's overall commitment to climate and nature goals announced in November 2020.
What Isn't Changing.
The reduction of plastic in our bottles will not have any effect on Advil's formulations that consumers know and trust.

Our globally recognized Advil label, design and packaging will remain the same.
"More Environmentally Friendly Packaging"
"As a world leader in pain relief, we at GSK are proud to transition Advil to a more environmentally friendly packaging, further supporting GSK's commitment to sustainability," said Sarah McDonald, VP of Sustainability, GSK Consumer Healthcare. "With this new technology available to us, we saw this as an opportunity to invest in the future of our brands and sustainability goals. Advil's switch to 20% less plastic is a first in the OTC category, and kicks off a series of plastic reduction initiatives across the product portfolio at GSK."
The focus area on plastics and packaging is informed by the leading requirements set by the Ellen MacArthur Foundation, whose mission is to accelerate the transition to a circular economy that is restorative and regenerative by design. GSK joined the Ellen MacArthur Network in 2020 and is committed to playing its part in mobilizing a shift towards a circular economy for plastics.
As part of our 2025 sustainability commitment, GSK joined the Action for Sustainable Derivatives (ASD), which aims to increase the transparency and traceability of palm oil derivatives supply chains. In collaboration with ASD, GSK introduced the Sustainable Palm Index (SPI), an evaluation scorecard for suppliers of palm oil and palm kernel oil derivatives, intended to support procurement decisions.
Furthermore, last year GSK announced ambitious new environmental sustainability goals in both climate and nature, aiming to have a net zero impact on climate and a net positive impact on nature by 2030.
The Sustainable Plastic Transition Has Already Begun
GSK's quest for ways to reduce plastic use has already begun with transitioning Advil's bottles with 20% less plastic. The majority of our Advil portfolio will have transitioned by 2022, both online and on retail shelves nationwide. Visit us at GSK.com to learn more about Advil and GSK's sustainability initiatives to reduce plastic use while we protect and improve people's health.
GSK Consumer Healthcare and Advil are proud to be taking steps toward a more sustainable future. We are always evaluating new, more sustainable options, without compromising on the safety or efficacy of our products. Reducing the plastic in Advil's bottles by 20% is just one step on our journey to a more sustainable future, and we look forward to continuing to deliver on our sustainability commitments in the future.
| | |
| --- | --- |
| About Advil | About GSK Consumer Healthcare |
1 Annual volume
2 Does not include Advil "easy open" bottles
By clicking the link(s) above, you will be taken to an external website that is independently operated and not managed by Haleon. Haleon assumes no responsibility for the content on the website. If you do not wish to leave this website, do not click on the links above.