Advil Liqui-Gels Minis
Advil Liqui-Gels minis, the concentrated power of Advil in a 33% smaller capsule. So you get fast, powerful pain relief for your tough pains in an easier to swallow size. Fast pain relief just got mighty small -that's the power of Advil Liqui-Gels minis.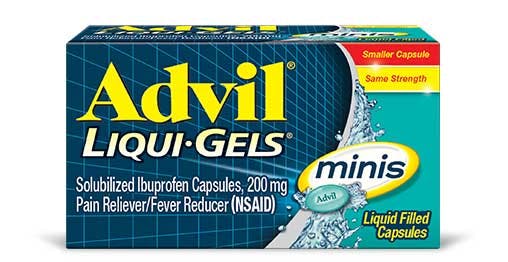 The makers of Advil do not produce store brand ibuprofen pain medicine.
Temporarily relieves minor aches and pains due to:
Headache
Toothache
Backache
Menstrual cramps
The common cold
Muscular aches
Minor pain of arthritis
Fever
12 years of age and older:
1 capsule every 4 to 6 hours while symptoms persist.
If pain or fever does not respond to 1 capsule, 2 capsules may be used.
Do not exceed 6 capsules in 24 hours unless directed by a doctor.
Under 12 years of age:
Active ingredient:
Solubilized ibuprofen equal to 200 mg ibuprofen (NSAID)* (present as the free acid and potassium salt)*Nonsteroidal anti-inflammatory drug.
Inactive Ingredients:
FD&C green no. 3, gelatin, medium-chain triglycerides, pharmaceutical ink, polyethylene glycol, potassium hydroxide, purified water, sorbitol sorbitan solution.
Use as directed. Read complete warnings and information.